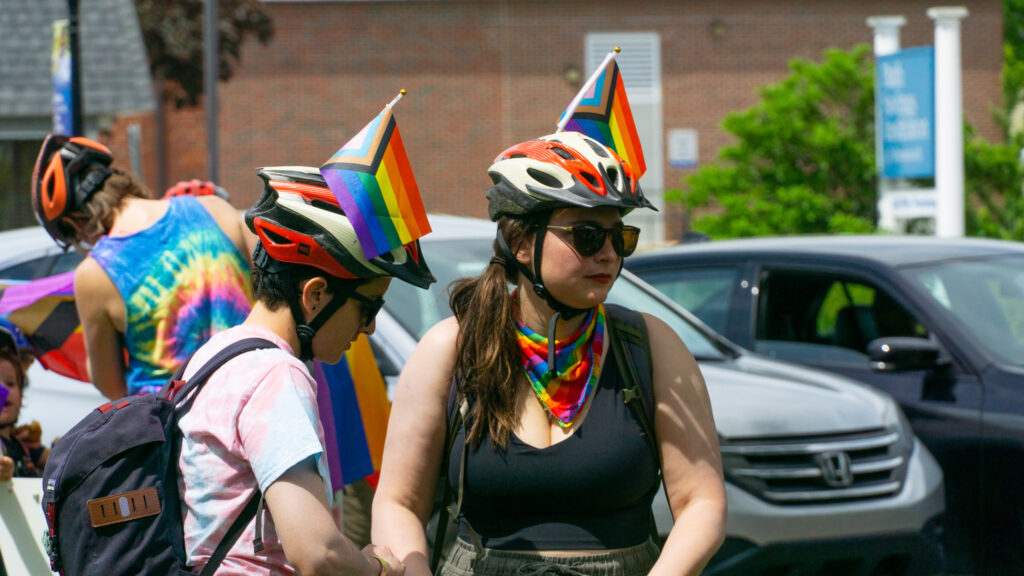 Thinking about hosting an LGBTQIA+ focused event during the month of June?
We'd love to help spread the word!
Scroll down to see other events happening this year!
April 19, 2023
4:00 – 8:00 pm – Flight Deck Brewing
Join us for some pizza and drinks on Wednesday April 19th, with 20% of sales being donated to Brunswick Pride!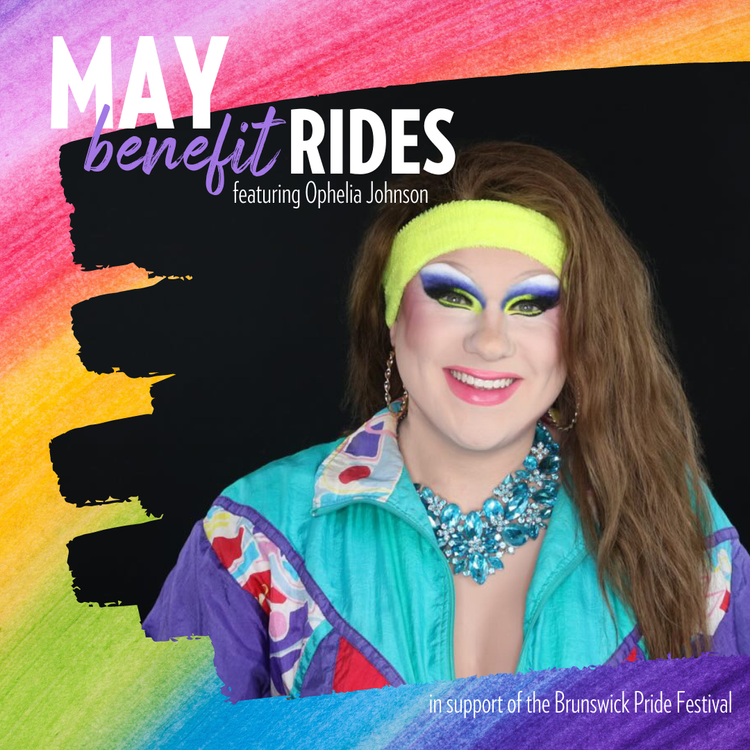 May 13, 2023
Spark Cycling Studio's 2nd birthday is this May!
They'll be raising money for Brunswick's 2nd Annual Pride Festival and thanks to their sponsors, they'll have 3 donation-based classes on Saturday, May 13th.
The best part? We've got a special guest, everyone's favorite local drag queen, Ophelia Johnson! Ophelia will join us for all three classes, helping us celebrate all that we've achieved and proving once again that Spark Cycling is an inclusive and safe space for anyone who wants to be here.
Bikes go live for booking on Sunday, May 7th at 12pm sharp! Click here.
Big thanks to our sponsors who's support allows us to offer all three classes for free: Iris Eats Maine, Brent + Lisa at Portside Real Estate, and Good Home Property Inspections.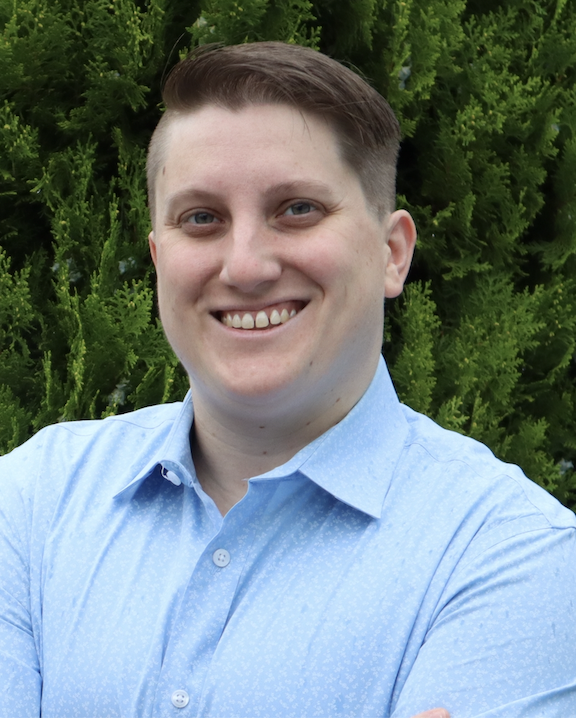 June 5, 2023
The History of Pride
A free, donation suggested webinar with Rae Egbert, PsyD, LADC, JD benefitting Brunswick Pride! Learn more and register here!
12 – 1 pm via Zoom
FREE with a suggested donation ($10-25) to Brunswick Pride!
Many people know that June is Lesbian, Gay, Bisexual, Transgender, and Queer (LGBTQ+) Pride Month. Some can even tell you that the 1969 Stonewall Uprising was the impetus for change, the spark that ignited the first Pride march. However, even fewer know the history of the riots, sit-ins, and protests that led to the events at Stonewall and the fight for modern day LGBTQ+ rights. This lunch and learn presentation will provide an overview of Pride – past and present. It will also offer an opportunity for participants to explore their own Pride experiences, as well as the many potential impacts that Pride may have on their LGBTQ+ clients. This presentation seeks to empower clinicians to move towards understanding and allyship during Pride month.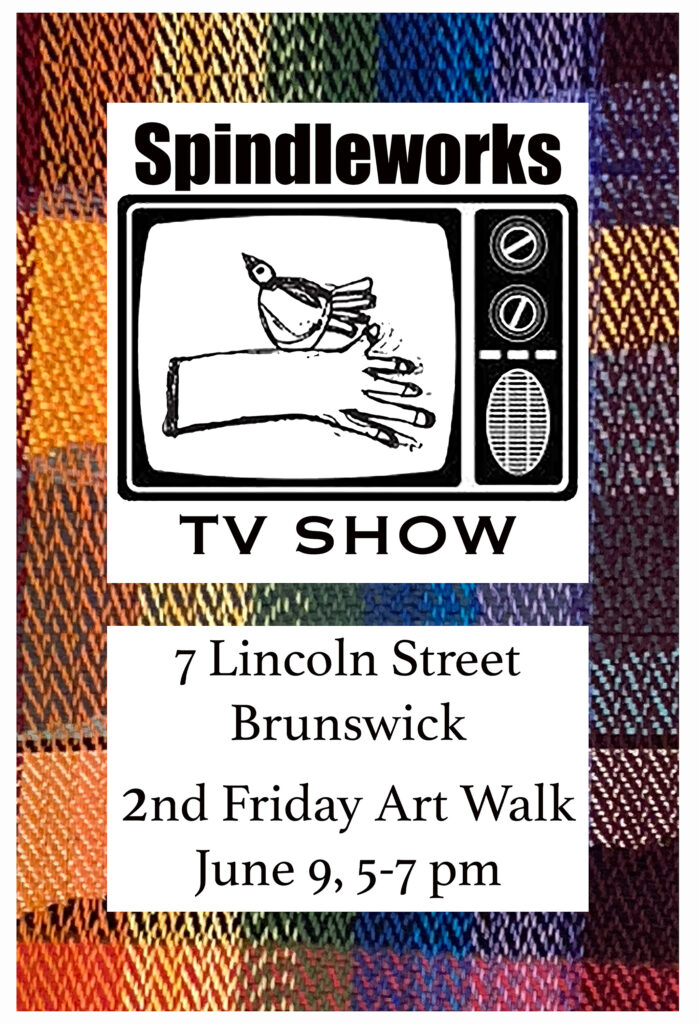 June 9, 2023
Spindleworks
Spindleworks is a non-profit art center for adult artists with disabilities and a program of the Independence Association of Brunswick Maine, whose mission is to help adult with disabilities achieve full and inclusive lives in their chosen community.
The TV Show, Show (opening June 9th) is a visual celebration of media and popular culture. Working in a wide variety of media; artists have created works exploring their favorite characters and stories. From Get Smart and Titanic to newer adaptations of films such as Alice In Wonderland, we find a shared generational love of visual story telling.

Throughout the month, Spindleworks store is Pride themed! Showcasing a wide variety of artworks, the store currently has woven rainbow fiber art, pop culture icons, original art magnets and more. Spindlework's artists share what brings them PRIDE.
June 9, 2023
Nomad Maine
9:00 pm
Nomad Nights dance party will be held Friday June 9th, with some proceeds donated to Brunswick Pride! Get yo dancing shoes ready….It will be an epic night of fun and lots of dancing!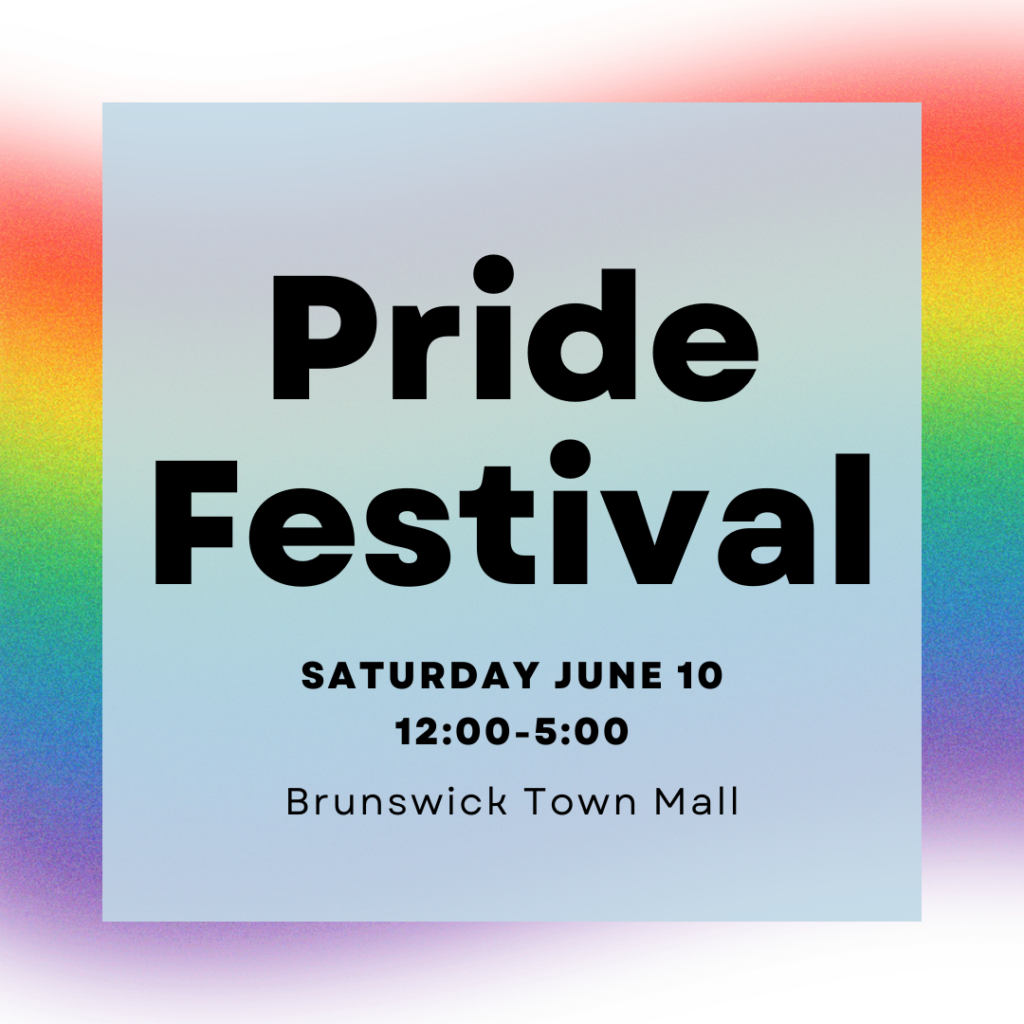 June 10, 2023
BRUNSWICK PRIDE FESTIVAL
12-5pm – Brunswick Town Mall
Performances, games and activities, tabling organizations and businesses, LGBTQ+ resources, bathrooms, food trucks, and more! All acts will take place on the main stage by the gazebo, unless otherwise specified below.
12:00 Drag performances
12:30 Liza May, Flow Artist
1:00 Rook Hine, poetry
1:30 Story hour, in the drag tent
2:00 Drag performances
3:00 Lynn Deeves/Carole Wise, acoustic music
3:00 Story hour, in the drag tent
4:30 Maine State Music Theatre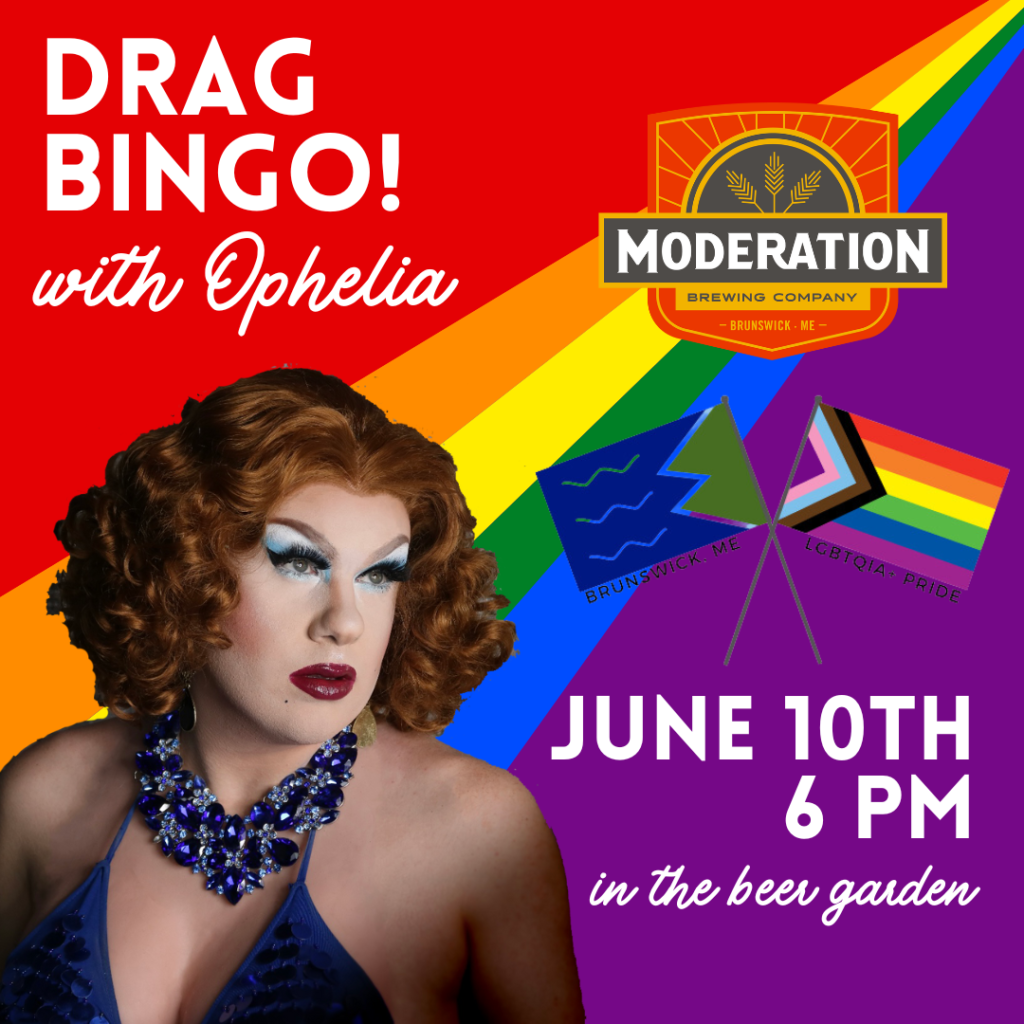 June 10, 2023
Moderation Brewing Company
6:00pm
Drag Bingo with Ophelia!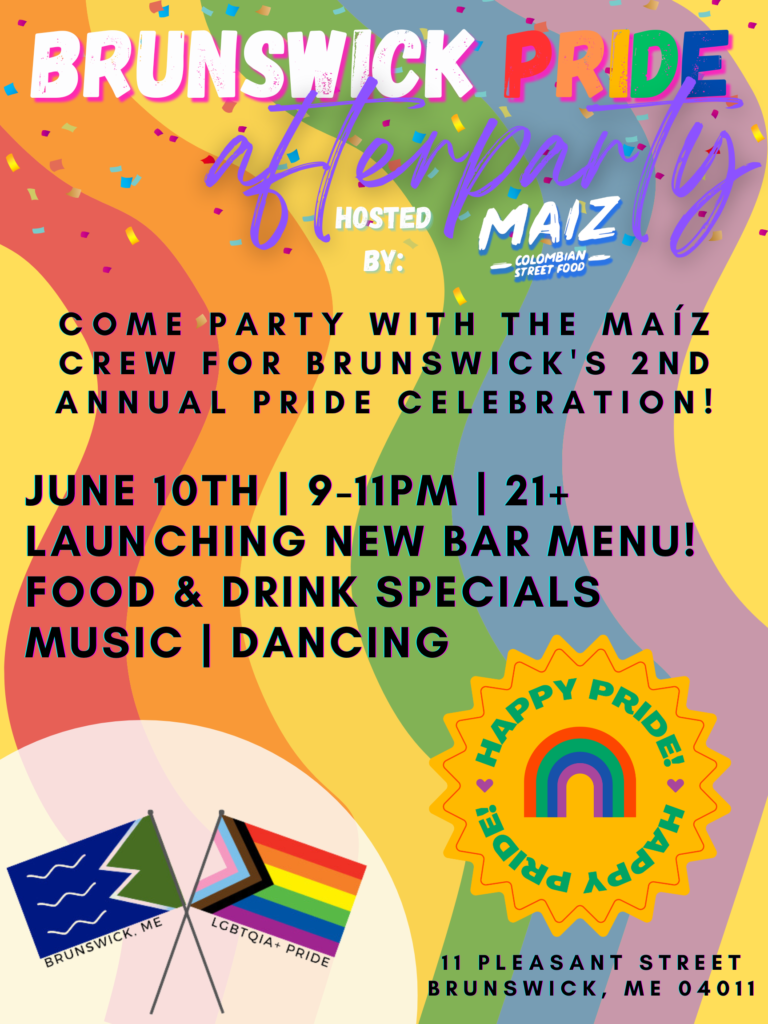 June 10, 2023
After Party @ Maiz!
9:00-11:00pm
21+ only – food and drinks, music and dancing!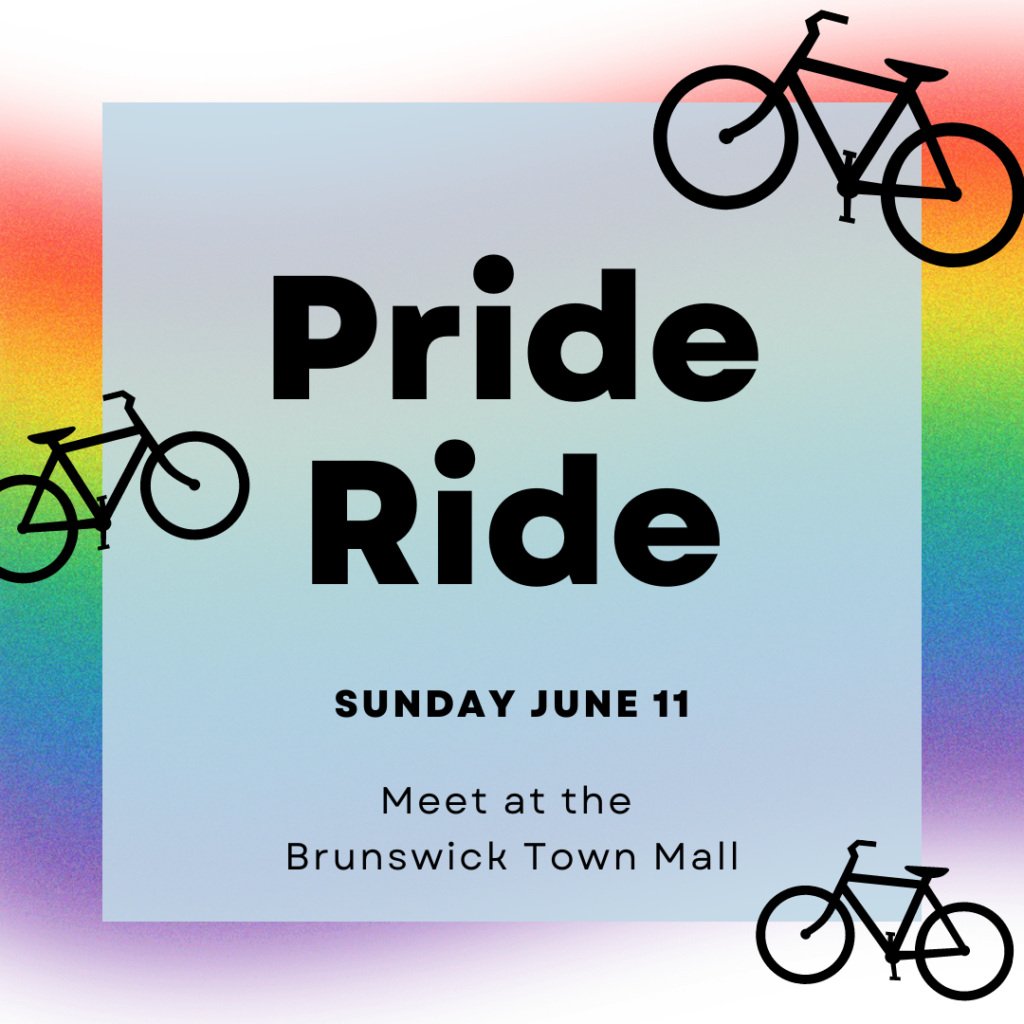 June 11, 2023
Brunswick Pride Ride
MEET AT BRUNSWICK TOWN MALL AT 9:00AM to sign waivers and get your sticker.
Kickoff will be at 10:00am with drag queen Ophelia as our grand marshal!
This family friendly ride will have stops at Wild Oats, Flight Deck, Black Pug, and Moderation Brewing with two route offerings: a 14 mile route and a 5 mile route.
Click here to view the route. Bike decorations and costumes are highly encouraged!
Beer samples for 21+ riders will be available as well as non-alcoholic beverages and snacks, with an extra special surprise at Wild Oats!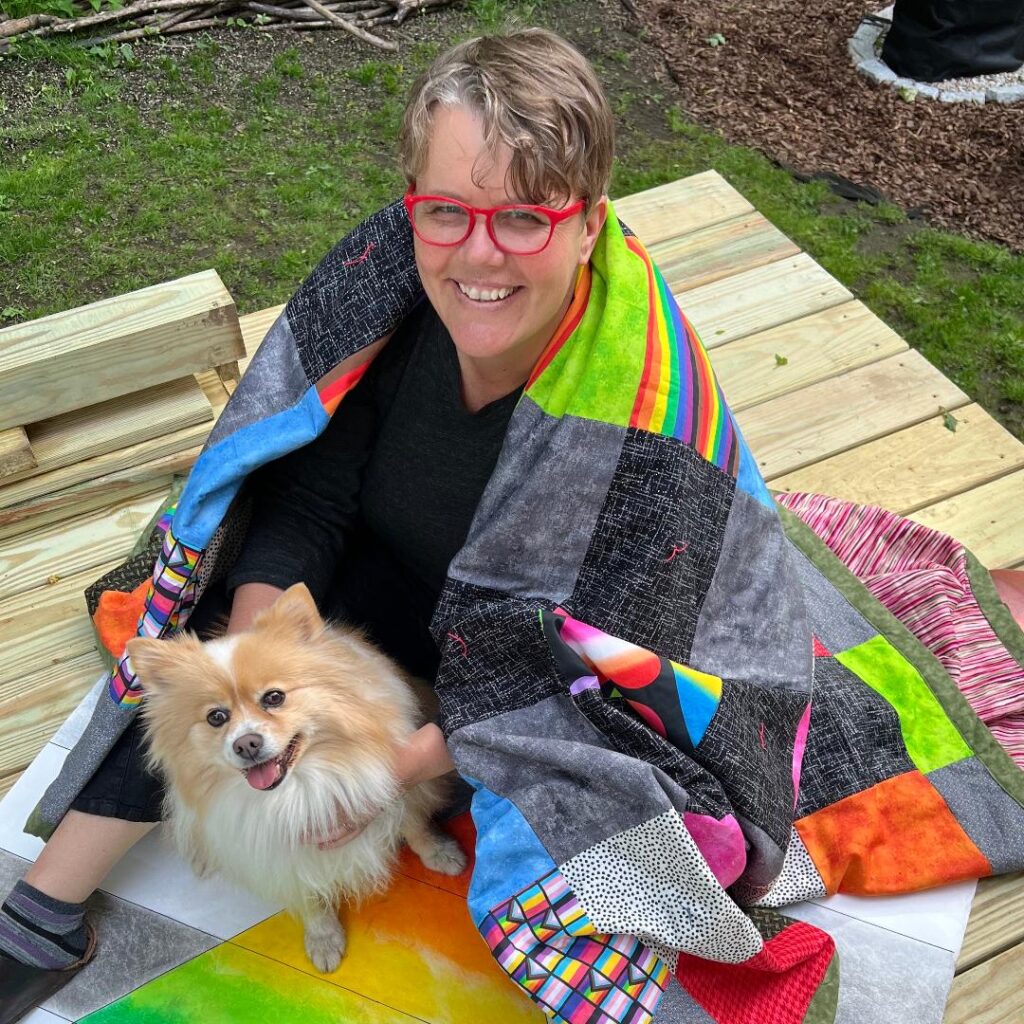 June 11, 2023
First Parish Church
Sunday, June 11th at 10 am. Pride Sunday Service at First Parish Church UCC, followed by Rainbow Cupcake Coffee Time. 217 Maine Street, Brunswick or via Facebook Live. Parking on Cleaveland Street and Park Row. All are welcome.
Sunday, June 11th at 11:15 am. Tracey Hair, Executive Director of H.O.M.E. Inc. featured in the photo, will speak on how our immigration system presents LGBTQ+ families with impossible choices at every turn. She will offer both her own lived perspective as an LGTBQ+ immigrant and as a professional advocate for homeless and low income families here in Maine, unpacking what work needs to be done to achieve immigration equality. First Parish Church UCC, 217 Maine Street. Parking on Cleaveland Street or Park Row. Open to the public free of charge. All are welcome.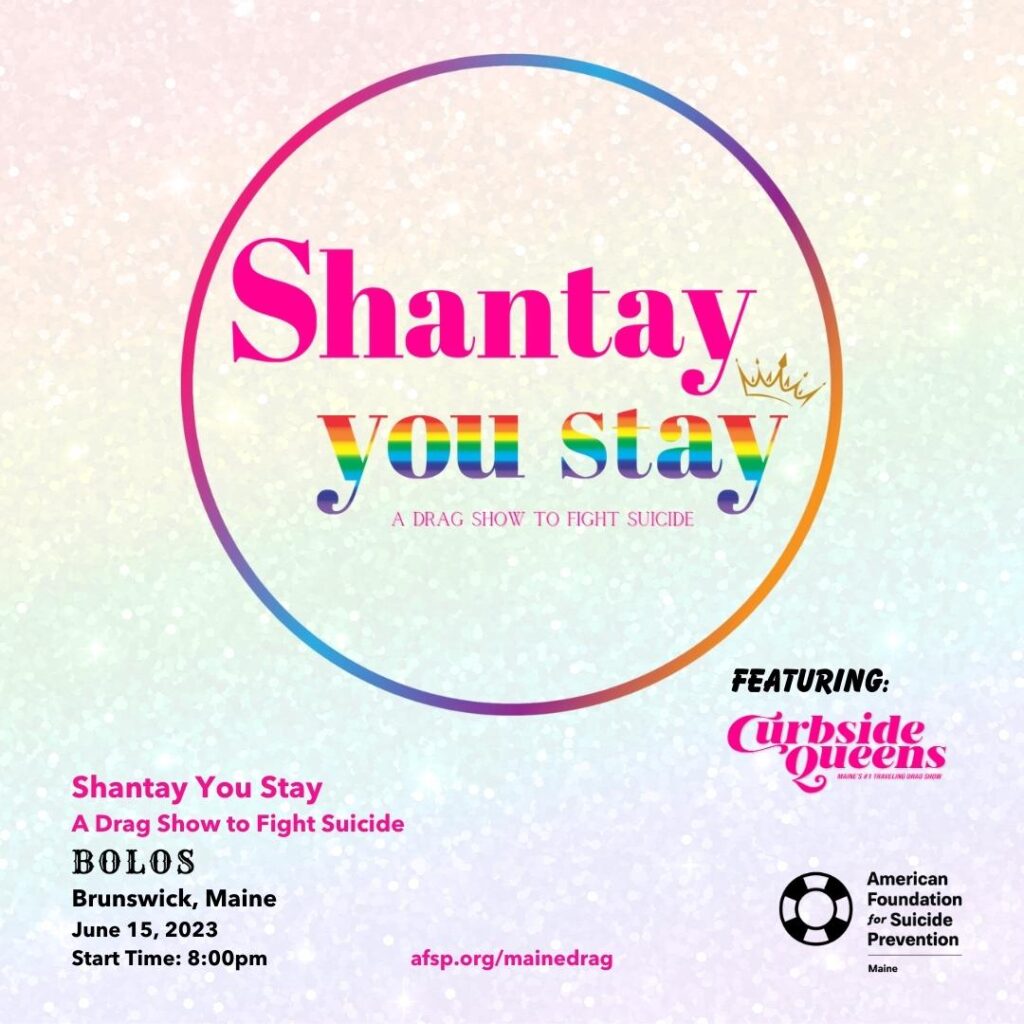 June 15, 2023
Shantay You Stay: A Drag Show to Fight Suicide at Bolos in Brunswick
Join us during Pride Month for our inaugural Shantay, You Stay: A Drag Show to Fight Suicide! This signature Drag Show, hosted by the Curbside Queens – Maine's #1 Traveling Drag Show – is a fundraising event designed to engage the LGBTQ community in the fight to prevent suicide, a leading cause of death. Funds raised from The American Foundation for Suicide Prevention events allow us to fund research, create educational programs, advocate for public policy, and support survivors of suicide loss. We are also planning a much bigger and more fabulous event in recognition of Transgender Awareness Week in November, so be sure to Join the Notification List! Click here to learn more.